Duties and responsibilities
Expectations of physicians in practice
A good defence depends on good records
Originally published Spring 1999 / Revised January 2011
IL9910-4-E
Abstract
CMPA provides free telephone record pads for physicians to use when documenting telephone advice.
In past issues of the Information Letter and during the many Education sessions given by CMPA representatives, we have pointed out the advantage of keeping good records. You have told us that it is difficult to make notes when you are talking with patients by telephone, especially when you are not in your office. In response to this, we are distributing telephone record pads as one way of recording your discussions with patients. An adhesive strip has been placed on the back of each sheet to assist in securing it directly in the patient's record.
Should you require more pads, contact the CMPA and additional pads will be mailed to you without charge.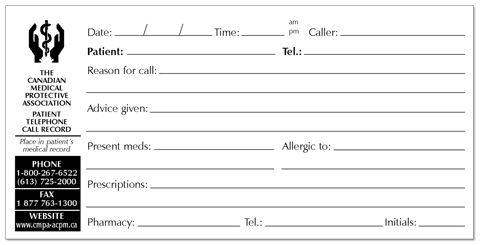 ---
DISCLAIMER: The information contained in this learning material is for general educational purposes only and is not intended to provide specific professional medical or legal advice, nor to constitute a "standard of care" for Canadian healthcare professionals. The use of CMPA learning resources is subject to the foregoing as well as the CMPA's Terms of Use.