Duties and responsibilities
Expectations of physicians in practice
Abdominal aortic aneurysm in the emergency department
An article for physicians by physicians
Originally published June 2007
RI0607-E
Abstract
The diagnosis of symptomatic abdominal aortic aneurysms is challenging. A review of medico-legal cases related to patients presenting with this diagnosis in emergency departments is presented, with risk management considerations.
Failing to diagnose a rupturing abdominal aortic aneurysm (AAA) almost always results in a fatal outcome for the patient and, on occasion, a medico-legal consequence for the physicians involved. Sir William Osler's statement from more than a century ago remains relevant today: "There is no disease more conducive to clinical humility than aneurysm of the aorta… when present the symptoms may be so obscure that the nature of the trouble is overlooked."
An analysis was done of the CMPA's AAA cases closed or opened over the last 10 years involving physicians working in emergency departments. It provides additional insights relevant to improving patient outcomes thereby minimizing physician medico-legal risk. This information will be of interest to any physician assessing patients in an emergency context.
The following case is representative of many cases in our analysis which demonstrate the difficulty of making the diagnosis of AAA.
Case summary
A 58-year-old obese, Caucasian male, with a history of hypertension and smoking, presented to an emergency department with a chief complaint of severe lower back pain of four days duration. The pain was accompanied by occasional vomiting and radiated intermittently to both lower quadrants of the abdomen. The increased severity of back pain had awoken him from sleep on the morning of presentation. Vital signs were normal except for a mild elevation of systolic blood pressure. Assessment by Physician A at 0500 hours disclosed no significant physical abnormalities. Femoral pulses were strong and symmetrical. A flat plate x-ray of the abdomen was read and later confirmed as normal. A CBC was normal. Narcotic analgesics were administered.
The patient's care was assumed at shift change by Physician B, who reviewed the patient and agreed with the previous diagnostic impression of mechanical back pain. The patient was subsequently discharged by Physician B with a prescription for analgesics and the single instruction to find a family doctor for follow up care.
Two days later, the patient was found dead at home. An autopsy revealed a ruptured abdominal aortic aneurysm with 3,000 cc of blood in the retroperitoneal space. The patient's family threatened a legal action against Physician B alleging both failure to diagnose the condition and failure to provide adequate discharge instructions.
Reflecting on the case
Recognizing the diagnosis can be difficult or missed without there being negligence or fault, if you were to reflect on the care provided in such a case, what questions might you ask?
Was the documented assessment adequate? Did it indicate the physician performed an acceptable history, physical examination and formulated a differential diagnosis?
Did the physicians consider the association of vomiting to be congruent with the working diagnosis?
Were appropriate investigations done?
Did the time of presentation play a role?
Was there adequate communication at the time of the shift change?
What was the quality and content of the discharge and follow-up instructions?
The following is a summary of CMPA data from 1997-2006 for patients with a final diagnosis of abdominal aortic aneurysm whose care was initiated in the emergency department.
Number of cases
Between 1997 and 2006, the number of medico-legal cases remained fairly stable, averaging three per year. (Figure 1) Of the 27 cases identified, nine (33 per cent) were legal actions, 16 (59 per cent) complaints and preliminaries to a regulatory authority (College), one (four per cent) a threat of legal action, and one (four per cent) an inquest. (Figure 2)
Figure 1: Number of cases (two open cases not included)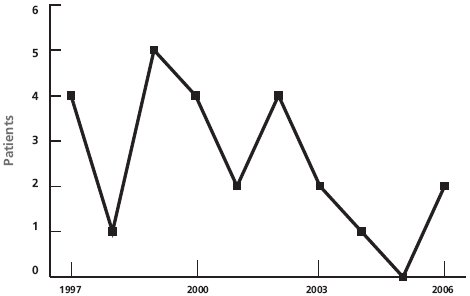 Figure 2: Number of cases closed per year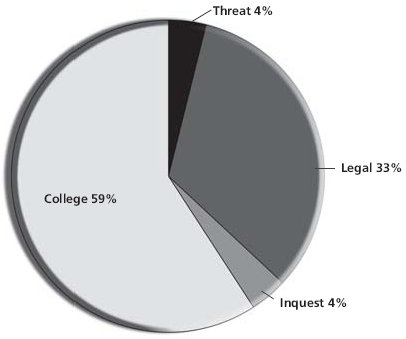 Legal outcomes
Of the nine legal actions, two remained open at the time of publication and five were dismissed. In two cases expert support could not be obtained from peers working in a similar practice environment; as a consequence, these cases were settled in favour of the plaintiffs and compensation paid by the CMPA on behalf of the member. (Figure 3)
The average time to completion of the legal cases was 3.8 years. After careful review, the regulatory authorities (Colleges) supported the care provided by the physician in 13 of the 16 cases. In the other three cases, the Colleges dismissed the complaints with a caution. The single coroner's inquest was not critical of the physician's management.
Figure 3: Legal outcomes of cases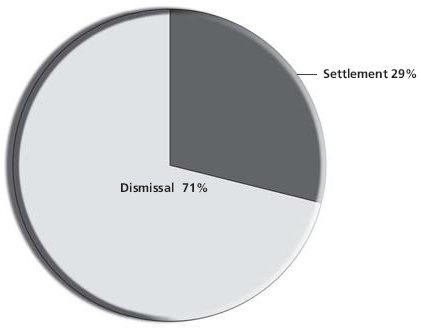 Patient characteristics, presenting symptoms and outcomes
The average age of the patients was 70 years (range 58-93) and 74 per cent were male. Previous cardiovascular history was present in 69 per cent, obesity in 66 per cent, and smoking in 62 per cent. Presenting symptoms included: sudden onset of severe radiating pain (back-abdomen, back-groin, back-leg) in 66 per cent, flank/back pain in 50 per cent, abdominal pain in 40 per cent, vomiting in 30 per cent, and syncope in 15 per cent. (Figure 4) Death occurred in 78 per cent and major disability in 15 per cent. Seven per cent of the cases resulted in minor or no disability.
Figure 4: Presenting symptoms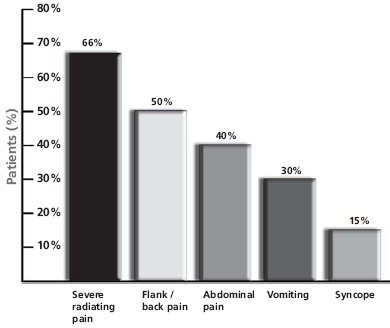 Emergency department care
In 63 per cent of cases the patient was discharged from the emergency department and in 44 per cent of cases there was a repeat emergency department visit within 24 hours of the initial visit.
Presumptive diagnoses were renal colic 30 per cent, mechanical back pain 26 per cent, diverticulitis / gastroenteritis 18 per cent, constipation 11 per cent, and 15 per cent other. (Figure 5) Plain film imaging (flatplate/3 views or lumbar spine) or IVP was ordered in 17 patients; in seven of these the aneurysm was visible but not detected by the first treating physician (41 per cent).
Figure 5: Presumptive diagnoses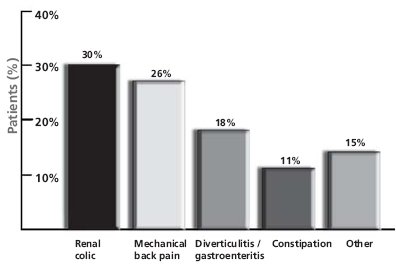 Identify your risks
Based on the expert opinion received in these cases the following have been identified as risk management considerations:
The diagnosis of a rupturing AAA can be challenging. Maintaining a heightened awareness of the variation in presentations of this condition may assist in making an accurate diagnosis.
Severe radiating pain is a common symptom. Syncope and vomiting may also be associated with AAA.
Obesity is a frequent complicating factor.
The most common presumptive diagnoses were: renal colic, mechanical back pain, and diverticulitis/gastroenteritis.
A patient returning to the emergency department with persistent symptomatology may warrant a new evaluation and consideration of alternative diagnoses.
Ruptured AAA might be considered in the differential diagnosis of an older patient with symptoms suggestive of renal colic.
When appropriate doses of narcotics fail to control pain, it may be prudent to review the differential diagnosis.
Review of cardiovascular risk factors may be useful.
Careful review of plain film, although not the imaging modality of choice, may in some instances yield useful diagnostic information.
Where appropriate, documentation should indicate the diagnosis of AAA was at least considered. It is always easier to obtain peer support when a differential diagnosis has been documented and pursued if reasonable to do so.
The bottom line
This review is intended to provide CMPA members with information that may help to reduce risk, both to the patient and the physician. Important considerations include:
A heightened awareness and vigilance with respect to AAA, particularly of the variation in presenting symptoms.
A careful assessment of the symptoms and associated risk factors may be useful.
In appropriate clinical circumstances, documentation should indicate that AAA was considered in the differential diagnosis and was pursued if reasonable to do so.
---
DISCLAIMER: The information contained in this learning material is for general educational purposes only and is not intended to provide specific professional medical or legal advice, nor to constitute a "standard of care" for Canadian healthcare professionals. The use of CMPA learning resources is subject to the foregoing as well as the CMPA's Terms of Use.