Safety of care
Improving patient safety and reducing risks
Aminoglycoside therapy: Balancing risk versus benefit
Originally published December 2008
RI0814-E
During the five-year period from 2002 – 2006, 423 legal actions involving medication administration were commenced against Canadian physicians. Of these, 116 (27%) involved antibiotic administration. Aminoglycosides were cited in 16 of the 116 antibiotic cases (14%).
The following is a review of CMPA cases relating to aminoglycoside toxicity. The purpose of this review is to encourage their continued safe use by apprising clinicians of the medico-legal risks associated with these agents.
Case 1
A 69-year-old male was admitted by his family physician to a rural hospital with recurrent epididymorchitis unresponsive to outpatient treatment with an oral antibiotic. Serum creatinine at the time of admission was within normal limits. Treatment with gentamicin 80 mg IV q8h was initiated and continued through the ensuing 10-day hospitalization. Gentamicin levels on day two and eight were within the therapeutic range. On day 10, the patient was transferred to the care of an urologist at a larger regional centre because of slower-than-expected improvement.
At the time of arrival at the regional center a creatinine level was elevated at 244 µmol/L. The gentamicin was continued for a further five days. It was discontinued on day 15 and a different oral antibiotic was prescribed. No gentamicin levels were performed during the admission to the regional centre.
On day 20 the patient was discharged from the regional centre and care was again assumed by his family physician. Five days later (day 25) he developed weakness, vomiting, dizziness and ataxia prompting readmission to the rural hospital where investigations showed a creatinine of 205 µmol/L and a urinalysis suggestive of mild infection. Gentamicin was restarted at a dose of 80 mg IM q8h. Over the ensuing five days two trough gentamicin levels were reported as within the therapeutic range. A neurologist, consulted five days after his readmission, suggested that the gentamicin should be discontinued. This was done, but the patient's dizziness and ataxia persisted. Electronystagmography (ENG) findings were consistent with severe bilateral vestibular dysfunction. Renal function returned to normal.
The family initiated a legal action alleging negligence in the care provided by the family physician with specific reference to the duration of therapy and the absence of consent. The plaintiff's experts were critical of:
The total duration of the therapy (20 days), even though there was a six-day hiatus in treatment. The experts considered this was beyond the accepted duration of recommended therapy.
The decision to restart the gentamicin on readmission to the rural hospital when both the creatinine and the creatinine clearance were known to be abnormal, and the patient had clinical and biochemical evidence of both vestibular and renal toxicity.
The failure to appreciate that toxicity may still develop even when levels, either peak or trough, are within the therapeutic range.
The absence of informed consent, particularly for the second course of gentamicin.
At trial the judge made the following statements:
"On the balance of probabilities . . . the defendant was negligent in prescribing and continuing to administer gentamicin during the second admission."
"At the time of readmission, the defendant breached his duty to inform the plaintiff of the risk; and if the plaintiff had been so informed, a reasonable person in the plaintiff's circumstances would not have accepted the risk."
As a result of this judgment, an award was paid to the plaintiff by the CMPA on behalf of the defendant physician.
Case 2
A 62-year-old female with a past history of recurrent right otitis media with tympanic perforations and a previous right tympanoplasty presented to an ENT consultant with complaints of right ear discomfort and hearing loss. Examination of the ear revealed a small perforation of the tympanic membrane but no otorrhea. An audiogram demonstrated 40 per cent loss of hearing bilaterally. Sofracort® drops (framycetin [a derivative of the aminoglycoside neomycin], gramicidin, and dexamethasone) were prescribed. During the ensuing five months the patient was seen six times. At each visit a persistent small perforation was noted with otorrhea being documented on only one visit. Continued treatment with Sofracort® drops was advised. Seven months after the initial visit the patient was seen by another ENT consultant. An audiogram done at that time showed a near total hearing loss in the right ear and persistence of the 40 per cent loss in the left.
A legal action was commenced by the patient alleging hearing loss secondary to the prolonged administration of the medication. Plaintiff experts were critical of:
The use of the aminoglycoside drops in the presence of a perforated tympanic membrane.
The six-month duration of treatment.
The continuation of the therapy in the absence of otorrhea.
The absence of consent for a prolonged course of therapy.
Expert support was sought for the ENT consultant, but could not be obtained. On this basis the CMPA made a settlement to the patient on behalf of the attending physician.
The data
Search criteria
The following search parameters were employed:
Files opened during the time period 1984 – 2006
File types: legal action, college complaint, legal threat, and inquest. Both open and closed files were used to derive clinical data. Only closed cases were used when determining legal outcomes.
Drug class: aminoglycosides, any route of administration
Drug toxicity: any
Type of work category: any
Exclusions: patients less than 18 years old
The following is a summary based on CMPA experience for the time period 1984 – 2006 inclusive for medico-legal problems resulting from alleged aminoglycoside toxicity.
Number of cases (Figures 1 –3)
During the study period 65 cases were identified, generating 73 medico-legal problems (in eight cases one clinical incident generated both a regulatory authority (College) complaint and a legal action), of which 62 (85%) were legal actions (Figure 1). As can be seen in Figure 2 there has been a variation in the frequency of these actions over the past 10 years. Members' involvement by their type of work category is shown in Figure 3.
Figure 1: Distribution of medico-legal problems (N=73)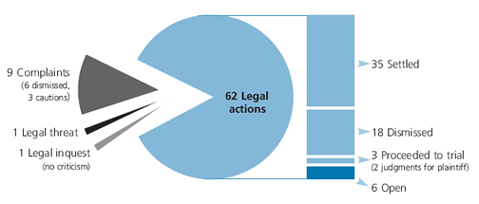 Figure 2: Legal actions opened per five-year periods (N=62)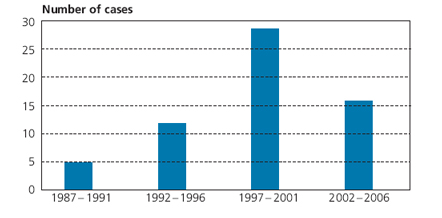 Figure 3: Type of work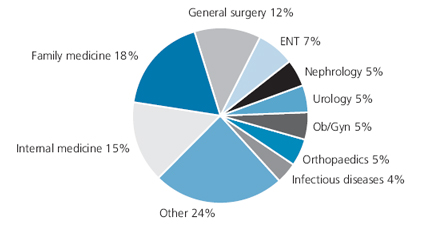 Legal and College outcomes (Figures 1, 4)
Of the 62 legal actions, 56 are now closed and six remain open at the time of writing. The outcomes of these actions are shown in Figure 1. The high proportion of settled cases is in contrast with the overall CMPA experience (Figure 4). Consent was identified as an issue in the statement of claim in 92 per cent of the legal actions.
Figure 4: Aminoglycoside vs. overall CMPA cases 1984 – 2006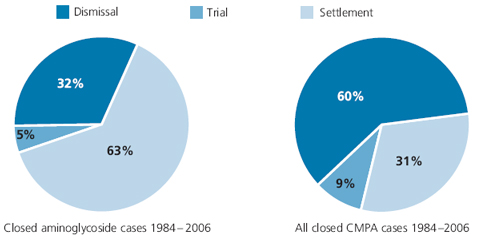 Clinical characteristics (Figures 5, 6)
Of the 65 clinical incidents, 56 involved the parenteral administration of an aminoglycoside and nine involved a nonparenteral administration (either topical, intratympanic as a treatment for Meniere's disease, or oral.) These two groups will be considered separately.
Parenteral administration of aminoglycosides
Patient characteristics
The average patient age was 54. Thirty-two of the patients (57%) were male. A history of diabetes was documented in 17 (30%). A creatinine level obtained prior to the initiation of therapy was above the upper limit of normal used by the reference laboratory in 13 patients (23%).
Conditions being treated and pathogens
Clinical conditions being treated in order of decreasing frequency were (Figure 5):
diabetic foot ulcers with osteomyelitis,
intra-abdominal sepsis,
urinary tract infections,
cellulitis,
endocarditis,
pelvic infections,
pneumonia, and
sinusitis.
Figure 5: Clinical conditions being treated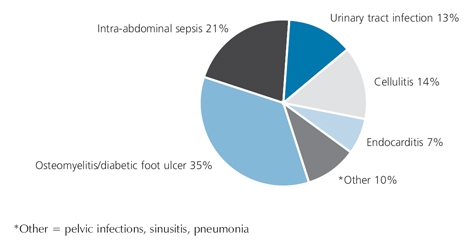 In 33 cases an organism was cultured. These included Pseudomonas, Staphylococcus aureus, Streptococcus, Escherichia coli, Enterococcus, Citrobacter, and Klebsiella. Only four of the microbiological isolates showed sensitivity only to an aminoglycoside, in the remaining 29 the organism was sensitive to at least one other commonly used antibiotic.
Drug Administration
Gentamicin was the antibiotic used in 53 cases (95%), tobramycin in two and netilmicin in one. In addition:
The aminoglycoside was given intravenously in 53 cases (95%) and intramuscularly in the remaining three. In 34 cases (61%) the drug was administered once daily in a dose of 5 – 7 mg/kg, in the remaining 22 cases either bid or tid dosage regimes were utilized.
Co-administration of loop diuretics, vancomycin, or non-steroidal anti-inflammatories was documented in eight cases (14%).
The average duration of therapy was 25 days (range 4 – 56 days)
Frequent monitoring (arbitrarily defined as greater than or equal to once weekly determinations of aminoglycoside levels and/or creatinine) was performed in 26 cases (46%). In the remaining 30 cases determinations were infrequent or absent. Once-daily gentamicin administration was utilized in 23 of those 30 cases.
Treatment was administered as an inpatient in 30 (54%), as an outpatient in 12 (21%) or both in the remaining 14.
Home care was involved in 12 of the 26 outpatient cases and was a co-defendant in eight cases.
The existence of a pharmacy protocol was noted in 19 (63%) of the 30 inpatient cases.
In 12 (40%) of the settled cases drug levels were performed frequently and were within recognized therapeutic ranges. Expert opinion in these cases identified either consent issues or the decision to continue the drug despite the appearance of symptoms and signs suggestive of toxicity as problematic.
Delay in receiving levels of either drug or creatinine was noted in only two cases.
Toxicity (Figure 6)
Common toxicities related to aminoglycoside use are either otic (vestibular or cochlear) or renal. The average duration of time between the onset of therapy and the first appearance of symptoms or signs suggestive of toxicity was 24 days (range 3 – 42 days). In 24 cases (43%) the drug was continued for more than 72 hours after the onset of clinical signs or symptoms of toxicity. In 10 patients, symptoms of toxicity occurred more than seven days after the drug was discontinued. Vestibular toxicity was confirmed with electronystagmography in 46 patients and was unconfirmed in two. In the remaining eight patients the toxicity was either cochlear (4) or renal (4). Figure 6 demonstrates that 93 per cent of patients who initiated medico-legal complaints or actions developed ototoxicity.
Figure 6: Type of toxicity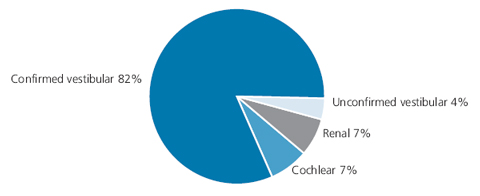 Non-parenteral Administration of aminoglycosides (topical, intratympanic, oral)
During the study period nine legal actions were identified related to the use of nonparenteral aminoglycosides. Six involved topical treatment for otorrhea, two related to intratympanic administration of gentamicin for Meniere's disease, and one case involved a patient with hepatic encephalopathy treated with a prolonged (240 day) course of oral neomycin resulting in cochlear toxicity. In all six otorrhea cases the tympanic membrane was not intact, either due to a perforation or myringotomy tube. Notably, all instances of medico-legal actions involving topical aminoglycosides were in the presence of a non-intact tympanic membrane. The average duration of therapy was 86 days. Framycetin (Sofracort®) was the drug involved in one case, in the remaining five, gentamicin drops were used. Vestibular toxicity was documented in four of these cases and cochlear toxicity was present in the remaining two. Of the topical cases three were settled and three dismissed. One of the two intratympanic cases was settled on an issue of consent and one dismissed. The neomycin case was settled.
The bottom line
Identifying risks when choosing a parenteral aminoglycoside
Based on the data presented and expert opinion from the files the following questions may need to be answered prior to the initiation of therapy with an aminoglycoside:
Has baseline renal function been assessed and, if abnormal, considered?
When available, have culture and sensitivity reports been reviewed? Are other safe and effective choices available?
Are other medications being administered that may potentiate toxicity?
In high-risk patients or those undergoing prolonged therapy, has a consent discussion occurred advising the patient or substitute decision maker of potential risks and benefits?
Are there credible and reliable protocols in place for the safe administration of these agents both in and out of hospital?
Is the duration of therapy appropriate? Are there mechanisms in place to alert a clinician when therapy is prolonged?
Has a most responsible physician, familiar with these agents and their toxicities, been identified? In his/her absence has responsibility been appropriately transferred?
Has the patient been alerted to early recognition and reporting of symptoms and signs suggestive of either vestibular or cochlear dysfunction and, if these occur, the necessity of immediate cessation of therapy?
Identifying risks with topical aminoglycosides
In the topical cases, review of expert opinion suggested the following questions should be explored:
Is the duration of therapy appropriate and being monitored on an ongoing basis?
When considering the use of a topical aminoglycoside otic preparation, is the tympanic membrane thought to be intact?
Are you aware of current recommendations with respect to topical aminoglycosides?
Aminoglycosides are effective antimicrobial agents with indisputable efficacy in gram negative infections. Increased awareness of the issues raised here may offer patients both improved and safer clinical care.
---
DISCLAIMER: The information contained in this learning material is for general educational purposes only and is not intended to provide specific professional medical or legal advice, nor to constitute a "standard of care" for Canadian healthcare professionals. The use of CMPA learning resources is subject to the foregoing as well as the CMPA's Terms of Use.