Safety of care
Improving patient safety and reducing risks
Aortic dissections: "Tearing" apart the data
Originally published June 2008
RI0812-E
This article summarizes information from the Association's database to help members reduce their exposure to risk.
"A man was seized with a pain of the right arm and soon after of the left…after these there appeared a pulsatile tumor on the upper part of the sternum…he was ordered to think seriously and piously of his departure from this mortal life, which was very near at hand and inevitable."
J.B. Morgagni 1761
In a case such as this, few physicians would have difficulty in making the diagnosis of an aortic catastrophe. However, in many instances, classic symptoms and signs of aortic dissection may be absent or overlooked.
An analysis was done of CMPA files for the years 1991 to 2005 where the final diagnosis was acute aortic dissection. This review provides insights relevant to improving patient outcomes and simultaneously reducing physician medico-legal risk. The information will be of interest to any physician assessing patients with acute chest pain.
The following representative case illustrates some common factors which may obscure the diagnosis.
Case study
A 54-year-old woman with a past history of treated hypertension, hypercholesterolemia, and chronic cervical and lumbar discomfort presented to the emergency department at 2200 hours. History obtained through a translator indicated a sudden onset of severe chest pain with radiation to the upper back and both shoulders. The onset of pain coincided with a sudden twisting movement of her upper back. Her initial vital signs were normal except for an elevation of systolic blood pressure.
Both the paramedics and the emergency nursing staff noted the patient to be distressed, pale, and diaphoretic. She was seen promptly by the emergency physician (Physician A) who detected no significant physical abnormalities aside from the hypertension. An initial electrocardiogram (ECG) was normal. Blood work, including cardiac markers, was normal. The chest X-ray showed bibasilar atelectasis, mild cardiomegaly, and a tortuous thoracic aorta.
A presumptive diagnosis of ischemic chest pain was made and the patient was held in the emergency department overnight pending an internal medicine consult the following morning. Nursing notes during that time indicate recurrent episodes of upper chest pain associated with vomiting and diaphoresis despite intravenous narcotics and antiemetics.
Day two
The following morning, with the assistance of a translator, the internist (Physician B) assessed the patient. No new historical factors of note were elicited. Auscultation of the chest was remarkable for an S4 and bibasilar lung crepitations. Palpation of the upper thoracic spine revealed point tenderness and partial reproduction of symptoms with rotation of the thoracic and cervical spine. There was no documented examination of peripheral pulses or bilateral arm blood pressures in either the emergency record or the internist's consultation. A repeat ECG was unchanged from those obtained at initial presentation. Further blood work revealed a mild leucocytosis and normal cardiac markers. A second chest X-ray showed a small left pleural effusion.
The patient was subsequently admitted to a telemetry bed for observation and further testing. The working diagnosis was recorded as "chest wall pain, rule out myocardial ischemia."
During the course of the day the patient continued to have intermittent pleuritic upper chest discomfort associated with vomiting, diaphoresis, and an elevated temperature. She was assessed by a second internist (Physician C) at 1800 hours, who concurred with the working diagnosis of chest wall pain. Repeat ECG and cardiac blood work were again unchanged. The pain subsided during the evening and she was able to sleep overnight.
Day three
The following morning the patient was reassessed by Physician B who elected to discharge her from the hospital with arrangements for an outpatient stress test. The day after her discharge she visited her family physician and collapsed in the waiting room. Resuscitation was unsuccessful. An autopsy showed 700 cc of clotted blood in the pericardium and a Stanford Type A dissection. (Stanford Type A is a dissection involving the ascending aorta regardless of the site of the intimal tear. Stanford Type B is a dissection not involving the ascending aorta.)
Litigation initiated
One year later, the family initiated litigation against all the physicians involved in her care. Expert opinions were sought from both emergentologists and internists. Expert support was obtained for Physician A and C, but not Physician B. This case was settled out of court and, on behalf of Physician B, a payment was made by the CMPA to the estate.
Summary of expert opinion in this case
The frequently noted severe visceral manifestations of pain were incongruous with the working diagnosis of a musculoskeletal disorder.
There was no record of bilateral arm blood pressures or of peripheral pulse examination.
The development of a low grade fever, leucocytosis, and a left pleural effusion was not explained by the working diagnosis.
The early establishment of a working diagnosis of a musculoskeletal disorder was premature, thus resulting in closure of the diagnostic process prior to considering important entities such as aortic dissection and pulmonary embolus. Further in-patient investigations were indicated to rule out these possibilities.

---
The data
The following summary is based on CMPA data from 1991–2005 inclusive for patients with a proven (through autopsy or CT) diagnosis of aortic dissection. Cases of isolated intramural hematoma, acute aortic ulceration, traumatic rupture, and dissection arising as a surgical complication were excluded. Reviews of CMPA data may exhibit selection bias in that many of these cases are characterized by atypical clinical features. Trends identified in this analysis may not be generalizable across the entire spectrum of patients with this disorder.
Number of cases
During the study time period, 32 cases were identified for an average of 2.1 cases per year. These 32 cases generated 34 medico-legal difficulties: 21 (62 per cent) were legal actions and 13 (38 per cent) were complaints to a regulatory authority (College). Two cases generated both a legal action and a College complaint.
Legal and College outcomes
Of the 21 legal actions, 16 are now closed. Of these 16 cases, five (31 per cent) were dismissed, six (38 per cent) were settled with compensation being paid by the CMPA on behalf of the member, and five (31 per cent) proceeded to trial (Figure 1).
Of the cases proceeding to trial, there were four (80 per cent) judgments for the defendant physician and one (20 per cent) judgment for the plaintiff (Figure 1).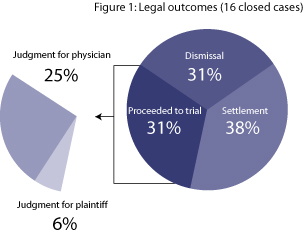 Of the 13 College complaints, after careful investigation 11 (85 per cent) were dismissed and the remaining two (15 per cent) resulted in a caution to the physician.
Patient characteristics (n=32)
The average patient age was 49 years (range 18 – 79) with 72 per cent being male. There was a previous history of cardiovascular disease in 56 per cent and of smoking in 41 per cent. Predisposing factors (Marfan's Syndrome or other connective tissue disorder, bicuspid aortic valve, known aortic stenosis or insufficiency, family history of dissection) existed in 22 per cent.
Presenting symptoms and signs (Figure 2) included:
sudden onset of severe chest pain (91 per cent);
visceral signs (pallor, vomiting, diaphoresis) either self-reported or observed (78 per cent);
intermittent pain (75 per cent);
radiating pain (back, neck, arms, jaw) (69 per cent);
pleuritic or positional pain (44 per cent);
pyrexia (22 per cent);
syncope (nine per cent); and
pain described as "tearing" (three per cent).
Relevant physical findings included the following:
"new" heart murmur (systolic, diastolic or both) in seven patients (22 per cent) ("new" = not previously known to patient);
in the 11 cases where bilateral arm blood pressures were recorded, only one abnormality was detected (nine per cent);
in 18 cases where peripheral pulses were documented, two (11 per cent) pulse deficits were detected;
a pericardial or pleural rub was present in three cases (nine per cent); and
a unilateral carotid bruit was detected in one patient (three per cent).
unilateral upper and lower limb parasthesias were reported in two patients (six percent).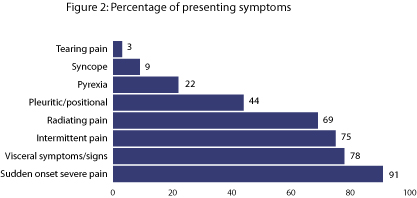 Investigations:
An ECG was obtained in 29 cases and was normal in 17 (59 per cent); in the remaining 12 (41 per cent) only non-specific changes or left ventricular hypertrophy were noted.
A chest X-ray was obtained in 28 instances, 14 (50 per cent) were reported as normal, in nine (32 per cent) the aorta was reported as tortuous or unfolded, and in the remaining five (18 per cent) a small pleural effusion was documented.
In the 25 cases where cardiac markers (CKMB or troponin) were measured, one (four per cent) abnormality was detected.
Clinical course
Two of the 32 patients in the sample presented to a primary care physician in an outpatient setting. The remainder presented to the emergency department. Consultations were obtained in 22 patients (69 per cent), 12 patients (37 per cent) were admitted and 20 (63 per cent) were discharged either from the emergency department or the office. Multiple visits to physicians were observed in 25 per cent. A delay in obtaining imaging was identified in two instances. Stanford Type A dissections accounted for 30 (94 per cent) of the cases. Death occurred in 30 patients, and the mean time from initial assessment until death was 31 hours (range four – 168 hours).
Presumptive diagnoses (Figure 3) were:
Acute Coronary Syndrome (ACS) (19 per cent)
musculoskeletal (20 per cent)
pneumonia/pulmonary embolism (PE) (20 per cent)
pericarditis (12 per cent)
gastritis/esophageal spasm (GI) (nine per cent)
other (20 per cent) pharyngitis, thyroiditis, renal colic, upper respiratory infection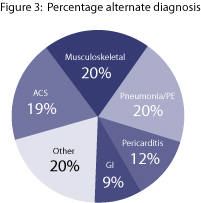 ---
Identify your risks
The following risk management considerations for presentations of acute chest pain are based on both this research data and expert opinion from the files.
Have you considered the diagnosis of aortic dissection in patients with:

Sudden onset of severe chest pain often with radiation, an intermittent course, and less frequently a pleuritic component,
Accompanying visceral manifestations (nausea, vomiting, pallor, and diaphoresis),
Normal or minimally abnormal ECG?

Reliance on "classic features" such as: tearing chest pain, blood pressure/pulse discrepancies, new cardiac murmurs, and a widened mediastinum on chest X-ray may be misleading.
When assuming the transfer of care of a patient, reformulation of the differential diagnosis may be prudent, especially if the clinical picture is evolving and the diagnosis is not yet firmly established. What other diagnosis could it be?
Has your documentation of a differential diagnosis included pertinent positive and negative historical and physical findings?
The bottom line
This review provides CMPA members with information that may help reduce risk, both to the patient and the physician, when assessing patients with acute chest pain. Lessons learned from this review include the following:
The diagnosis may elude even the most experienced and knowledgeable clinicians. Missing the diagnosis does not necessarily represent negligent medical care.
The clinical assessment, differential diagnosis, investigations, rationale for your treatment plan and follow up instructions should all be documented.
Medical experts have observed the clinical presentation may vary and can mimic many other conditions.
---
DISCLAIMER: The information contained in this learning material is for general educational purposes only and is not intended to provide specific professional medical or legal advice, nor to constitute a "standard of care" for Canadian healthcare professionals. The use of CMPA learning resources is subject to the foregoing as well as the CMPA's Terms of Use.