Duties and responsibilities
Expectations of physicians in practice
Adverse events — Physician-prescribed opioids
Originally published April 2009
RI0915-E
Opioids have been used for pain control for thousands of years, and remain invaluable for treating pain today. However, adverse medication events, sometimes of a very serious nature, may occur.
An analysis of medico-legal cases involving physician-prescribed opioids
This review focuses only on the legal actions involving acute reactions from physician-prescribed opioids. Forty-nine cases which closed between 2000 and 2007 were studied and the following information was obtained.

Clinical outcomes
In 44 of 49 cases, the principal event was respiratory insufficiency. There were 27 deaths, five cases of hypoxic brain injury, and 12 cases of respiratory depression which responded to treatment.
Of the remaining five patients, one suffered a seizure, one suffered hypotension and renal tubular necrosis, one fell down stairs, and two were involved in motor vehicle crashes.
Pharmacological factors
Opioid used
Opioids involved in these cases included morphine, meperidine, methadone, hydromorphone, fentanyl, oxycodone, and anileridine, as depicted in Figure 1.
Figure 1: Opioids associated with adverse events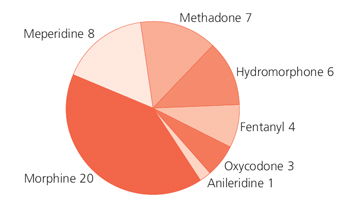 Indications for opioids
Of the 49 patients, 14 had undergone elective procedures and 17 were suffering from an acute medical condition or injury.
Eighteen patients were treated for an exacerbation of their chronic pain or addiction; in several of the chronic pain cases, experts felt that the indications for opioids were insufficient to warrant their initial use or dose escalations.
Dosage
The dose of opioid which preceded the medication adverse event was, in some cases, considered by experts to fall within the usual therapeutic dosing range. Examples include morphine by patient controlled analgesia (PCA) pump at 3 mg/hr, meperidine 50 mg IV, hydromorphone 2 mg SC, and morphine 10 mg IM. (Several of these patients had other risk factors for respiratory depression, as described below.)
In other cases, experts considered the initial dose of opioid to be too high and/or the dosage escalation too rapid and/or excessive.
A number of patients had received large cumulative doses of opioid in the six to 12 hours preceding the critical incident.
Concomitant treatment
Eighteen patients had received more than one type of opioid, 16 had received benzodiazepines and two had ingested alcohol. Eight had received three or more sedating medications.
In several cases, experts considered that benzodiazepines, tricyclics, other sedating medications or alcohol had contributed to the respiratory depression. In one case, it was noted that meperidine was contraindicated in association with a monoamine oxidase (MAO) inhibitor.
No concomitant sedating medication
Nine patients had received only one type of opioid, had not ingested alcohol, and had received no other sedating medication.
Four of these patients had received methadone; in two, experts believed their tolerance had diminished due to recent narcotic abstinence. In two cases the starting dose was considered too high.
One patient had severe sepsis. One patient had suspected sleep apnea, and pharyngeal swelling related to surgery.
Three patients had received one opioid only, and had no co-morbid condition predisposing to respiratory depression. All had received intravenous morphine, one post-operatively, and two for trauma-related pain. The dose that preceded the event was 20 mg in one case, 10 mg in one case (a total of 40 mg in the three hours preceding the respiratory arrest), and approximately 4 mg/hr in one patient on PCA pump.
Route of administration
Adverse medication events occurred with parenteral (including PCA pumps), oral, and transdermal administration; many patients had received opioids by more than one route.
Time after dose
After IV administration, respiratory insufficiency occurred between 20 minutes to 3.5 hours post-dose.
After IM injection, respiratory insufficiency was identified between 30 minutes to 7.5 hours post-dose.
Vital signs were sometimes ordered 30 or 60 minutes post-dose, but the adverse event occurred later.
Patient factors
Age of patients and location of occurence
| | |
| --- | --- |
| Figure 2: Patient ages | Figure 3: Location |

Co-morbidity
In several cases, experts considered that co-morbid conditions had increased the patient's susceptibility to respiratory depression. Co-morbidities included the following: COPD, hypercapnia, upper airway obstruction, sleep apnea, asthma, collapsed lung, rib fractures, severe scoliosis with chronic pulmonary insufficiency, and morbid obesity.
In one case, experts opined that an opioid should not have been given prior to a procedure in a patient with cardiogenic shock.
Tolerance
In three cases, patients with a history of high dose chronic opioid use had diminished or interrupted their use of drugs. Opioids were re-introduced at a high dose. Experts believed that the patients' tolerance to opioids had decreased during the period of abstinence.
Monitoring and treatment
Monitoring
Among the files reviewed, experts identified the following issues related to monitoring:
Insufficient monitoring of vital signs, respiratory status, pulse oximetry and/or level of consciousness in patients at high risk of respiratory depression.
Failure to order additional treatment and more intensive monitoring in patients with sleep apnea.
Failure to admit high risk patients to a specialized unit.
Early transfer from the recovery room to the ward of a post-operative patient who was not fully alert, and had just received a large dose of opioid.
Too early cessation of monitoring after a procedure done under sedation.
Failure to recognize respiratory depression during endoscopy.
Failure of nurses to notify physicians of decreased respiration, apneic spells, confusion, or decreasing level of consciousness.
Failure of physicians to appreciate signs of impending respiratory arrest, and to react appropriately by securing an airway and/or administering an opioid antagonist.
Experts observed that pain was a powerful antidote to respiratory depression and when the patient's pain subsided, or other types of stimulation diminished, the risk of respiratory depression increased.
Prescription issues
In one case, a physician prescribed hydromorphone at the same dose as morphine. However, hydromorphone is several times more potent.
In one case the doctor's handwriting was misinterpreted by the pharmacist and 10 times the intended dose was prescribed.
Post-discharge instructions
In one case, a patient had not been warned to refrain from driving after a day procedure for which he had received opioids and benzodiazepines. Experts were critical of that omission.
In some cases, it was felt that patients and/or family members had not been given sufficient instruction about the warning signs of over-sedation.
Methadone
In patients prescribed methadone, experts identified the following problems:
Patients claimed to have been on higher doses of opioid than was actually the case, and were prescribed an excessive starting dose of methadone.
The dose for patients was not reduced to compensate for a loss of tolerance in recent narcotic abstainers.
Patients, despite recently having begun treatment, were given an extra dose (a ?carry? dose) for a weekend and took both doses the first day.
Legal outcomes
Thirty-two cases were settled on behalf of a physician and/or another regulated health care professional and/or facility. Fourteen cases were discontinued by the plaintiff, two were dismissed by the court, but one of these was determined in favour of the patient on appeal.
Medico-legal considerations
The following risk management considerations are based on the expert opinions in these medico-legal cases:
Is there an appropriate indication for opioids?
Are the starting dose and the rate of dose escalation appropriate?
Have you considered the degree of monitoring that would be reasonable for your patient?
Have you considered the potential effect of any concomitant use of alcohol or sedating medications by the patient?
Have you considered any factors, such as patient co-morbidities, that might influence the dosing and/or monitoring of opioids?
Are you reasonably prepared to treat an opioid-related adverse event?
When discharging patients have you provided reasonable information about the risks of opioids, and precautions to be observed with their use?
---
DISCLAIMER: The information contained in this learning material is for general educational purposes only and is not intended to provide specific professional medical or legal advice, nor to constitute a "standard of care" for Canadian healthcare professionals. The use of CMPA learning resources is subject to the foregoing as well as the CMPA's Terms of Use.