Duties and responsibilities
Expectations of physicians in practice
Smartphone, smarter physician: Safely recommending mobile health apps in your practice
Originally published December 2016
P1604-2-E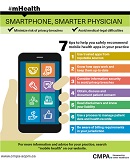 Infographic: #mHealth– Smartphone, smarter physician: 7 tips to help you safely recommend mobile health apps in your practice
Patients are increasingly playing a greater role in directing and managing their personal health. This is good news for physicians who rely on engaged patients to enable them to provide the best possible care. Already a part of our daily lives, mobile technology offers the potential to enhance patient engagement and enable effective and efficient healthcare management.
While mobile health tools hold the promise of greater convenience and better health outcomes, technological innovations continue to advance at a rate that exceeds changes in related information privacy and security regulations. This reality raises privacy and security concerns, and both physicians and patients who embrace mobile health tools should understand the risks and take reasonable steps to manage them.
Dr. Patrick Ceresia, the CMPA's Chief Privacy Officer, is not surprised that mobile health has become an integral part of our healthcare delivery system, given the entrenchment of technology in our everyday lives. And while he notes that such advancements are contributing to patient engagement, he cautions: "Regulations and best practices are still unfolding, and we must focus on integrating mobile tools appropriately in our practices."
Recommending mHealth apps to patients
Mobile health, or mHealth, is the practice of medicine and public health supported by mobile technologies. Through the use of mHealth apps on smartphones and tablets, patients and physicians can monitor and manage patients' health. These apps are intended to educate patients and raise their awareness of medical conditions, manage chronic disease symptoms, and track a range of activities and conditions like physical activity, caloric intake, ovulation, medication, and perceived mental health.1
According to the 2014 National Physician Survey, approximately 50% of physicians use mobile apps in their practices, and 16.5% are recommending them to their patients.2 This limited usage may be due to concerns about the effectiveness and reliability of apps, and an absence of unbiased reviews of available mHealth apps.3
To assist physicians in making informed decisions about choosing the right health apps, the Canadian Medical Association's Guiding Principles for Physicians Recommending Mobile Health Applications to Patients (2015) suggests ways to assess mHealth apps and the appropriateness to recommend a particular app to a patient. Among the factors the CMA advises physicians to consider is whether the mHealth app is endorsed by a credible medical association or organization, offers a user-friendly experience, updates information regularly, adheres to stringent security and privacy standards, does not result in a conflict of interest, and maintains continuity of the patient's health information.3
How physicians can avoid medical-legal risks
Physicians who recommend mHealth apps to patients or who are using them in their practice should consider the following points to help minimize the risk of privacy breaches and medical-legal difficulties:
Trusted apps from reputable sources: mHealth apps are typically not approved by Health Canada, are often programmed by developers who lack healthcare training, and do not undergo a formal testing process by healthcare professionals.4 As a consequence, physicians may want to compile their own list of personally tested apps that are proven reliable and suitable for their practice. Physicians should advise patients that information supplied by apps should not be construed as specific medical advice.
Functionality and maintenance: Both physicians and patients should know how to use specific mHealth apps as intended. Physicians should ensure patients have access to adequate instructions on how to use a recommended mHealth app, and remind patients to keep their installed apps current (i.e. download any updates without delay when prompted to do so).
Information security: Physicians should ensure reasonable information security safeguards are in place to reduce the risk of privacy breaches. For example, mobile devices should be locked when not in use, and privacy settings such as password protection for apps should be enabled. When recommending an app, physicians should review the privacy policies of the apps to ensure third parties do not have access to identifiable personal health information without the express consent of the patient. If physicians store patients' personal health information on mobile devices, the correct level of encryption should be used as mandated by most provincial privacy laws and regulations. When a physician recommends an app, both the physician and the patient must agree to be accountable for the protection of the patient's personal health information. In the event of a breach, both the physician and patient should take reasonable steps to prevent further losses, and take corrective action such as limiting the use of the app. Some jurisdictions require physicians to report the breach.
Consent: Patients should provide their informed consent to using an mHealth app when suggested by the physician. The CMPA's Consent to use electronic communications form may be useful in guiding and documenting the consent discussion. Physicians should document both the consent discussion and file any written agreement in the patient's medical record.
Patient records: To ensure continuity of the patient's health information, physicians should create a process for importing, reviewing, and discussing the data collected by the mHealth app with the patient. Patients should be aware of, and agree to, the terms of physicians' processes. Physicians should generally include only clinically relevant information to avoid having to manage a surplus of unnecessary data.
Medical liability: Most mHealth apps are accompanied by a disclaimer limiting the app's responsibility for accuracy, reliability, and completeness. While such statements do not absolve the developers of the app from liability, physicians should carefully consider apps with disclaimers intended to shift legal responsibility onto the physicians.5
Billing: As some provinces do not include electronic health activities in their billing structure, physicians who use mHealth apps should be aware of the billing requirements that apply in their jurisdiction.
Additional resources
---
References
Ho K. Are you prepared for the mobile health tsunami? Alberta Doctors' Digest [Internet]. 2015 September/October [cited 2016 April 11];40(5):6,7. Available from: https://www.albertadoctors.org/Publications%20-%20ADD/Digest_SepOct2015_lores.pdf
National Physician Survey. Q17: Do you use any telehealth or telemedicine technologies in your practice?. 2014 National Results by Province/Territories [Internet]. Mississauga: National Physician Survey; 2014 December 2 [cited 2016 April 11]. Available from: http://nationalphysiciansurvey.ca/wp-content/uploads/2014/10/2014-ByProvince-TelehealthTelemedicine-EN.pdf
CMA Policy. Guiding principles for physicians recommending mobile health applications to patients [Internet]. Ottawa: Canadian Medical Association; 2015 [cited 2016 April 11]. 5 p. Available from: https://www.cma.ca/Assets/assets-library/document/en/advocacy/cma_policy_guiding_principles_for_physicians_recommending_mobile_health_applications_to_patients_pd1-e.pdf
Franko OI. How helpful are mobile healthcare apps? Without clinician input and validation, healthcare apps could be a liability. AAOS Now [Internet]. 2013 March [cited 2016 April 11]. Available from: http://www.aaos.org/AAOSNow/2013/Mar/managing/managing5/?ssopc=1
Canadian Nurses Protective Society. Mobile healthcare apps. Info Law [Internet]. 2013 Dec [cited 2016 April 11];21(2):1-3. Available from: http://www.cnps.ca/upload-files/pdf_english/mobile_healthcare_apps.pdf
---
DISCLAIMER: The information contained in this learning material is for general educational purposes only and is not intended to provide specific professional medical or legal advice, nor to constitute a "standard of care" for Canadian healthcare professionals. The use of CMPA learning resources is subject to the foregoing as well as the CMPA's Terms of Use.