Safety of care
Improving patient safety and reducing risks
Hazards in the operating room: Surgical fires and burns
Originally published December 2017
17-23-E
Surgical fires causing injury and other unintended intra-operative burns are considered "never events" by the Canadian Patient Safety Institute (CPSI).1 These rare events often have many contributing factors, such as the involvement of multiple healthcare professionals and non-adherence to surgical safety protocols. These factors highlight the importance of having effective team communication and systems in place to prevent unsafe situations.
"Never events are patient safety incidents that result in serious patient harm or death, and that can be prevented by using organizational checks and balances."1
A recent review of 54 closed CMPA medical-legal cases involving intra-operative burns revealed the following findings2:
15% of patients experienced severe harm such as airway damage and full-thickness burns.
Many patients were left with scarring, disfigurement, and psychological trauma.
Incidents occurred mainly in hospital main operating rooms (ORs), but also in day surgery and clinic ORs.
Surgical specialties most often involved in intra-operative burns (closed CMPA cases 2012-2016)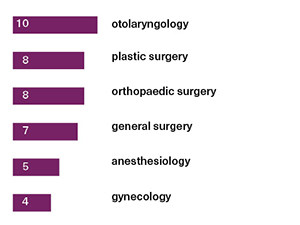 Factors contributing to surgical burns and fires
It is recognized that for a fire to occur, the three elements of the fire triangle must be present: ignition (heat), fuel, and oxygen.3 Each member of the OR team should share responsibility in managing these elements, be continuously aware of the risks, and be encouraged to identify and address them. Almost one-third (31%) of the CMPA cases reviewed involved surgical fires. The fire triangle elements were not present for all fires. Incidents in the other cases were due to burns from surgical equipment (60%) and chemicals (9%) used during the surgery.
Case example: A surgical fire occurs during surgery inside the airway
An elderly woman requires intubation and general anaesthesia for a flexible bronchoscopy and debulking of an obstructing tracheal tumour. She is also receiving 100% oxygen. When the thoracic surgeon activates the laser, there is a sudden flashback followed by an intra-tracheal fire.
The patient suffers inhalation smoke injury and thermal injury to her tracheobronchial tree, and she requires three weeks of intensive care. A legal action ensues, and experts are critical of the anesthesiologist's use of 100% oxygen. They refer to the literature that indicates the lowest possible oxygen concentration, usually between 30% to 40%, is necessary to prevent OR fires in this scenario.
Causes of surgical burns in reviewed CMPA cases
Fuel source
Incidents involving fuel sources were usually related to incorrectly applying antiseptic agents (usually alcohol-based) during skin preparation by:
not letting the agent dry sufficiently before placing drapes
allowing the agent to pool under the patient
inadequately diluting or using the wrong solution
Oxygen source
An oxygen-enriched environment contributed to half of the surgical fires in the reviewed cases. These usually occurred when the oxygen concentration was not decreased to the lowest possible level when performing electro- or laser surgery on the head, neck, or upper chest.
Ignition (heat) source
Most of the burns not caused by fires were related to equipment issues. These included:
improper connection or using the wrong type of device (e.g. insulated or non-insulated cautery)
not ensuring the safe positioning of the surgical device when not in use
using the improper device setting (e.g. laser power level too high)
not following the device manufacturer's recommendations
malfunction (e.g. laser cable, cautery tip)
improper equipment maintenance
Other less frequent causes of burns were the result of not wetting the gauze or sponges that were in close proximity to electro- or laser surgical devices before igniting, as well as not allowing a flash-sterilized instrument to cool down adequately before use.
Other issues
Peer experts in the cases reviewed identified three other noteworthy issues. The first being members of the surgical team not communicating critical information intra-operatively, such as the lack of communication between a surgeon and an anesthesiologist regarding oxygen concentration and activation of a laser during airway surgery. The second was related to a delay in diagnosing a burn or inadequate management of burn-related complications, and the third was inadequately documenting the burn event or the post-operative care of the patient. The CMPA Good Practices Guide,4 has more information on team communication, reducing risk in surgery, and documentation. Another CMPA resource is the article, "Shining a light on the medical-legal risks of laparoscopic surgery."5
Reducing the risks
Based on the literature3,6,7 and expert opinions in the CMPA cases reviewed, physicians may want to consider the following risk reduction practices:
Assess the risk of fire or burns before each procedure, and consider including in the surgical safety checklist a time out on the risk of fire.
Encourage communication and collaboration between all members of the surgical team about identifying fire risk before and during the procedure.
If supplemental oxygen is required, deliver the minimum concentration possible to maintain a safe blood oxygen saturation, and take extra measures to prevent oxygen from accumulating in the surgical field.
When preparing the skin, avoid the pooling of antiseptic solutions and allow for sufficient drying before beginning the procedure.
Follow manufacturer recommendations or institutional policies regarding the handling, use, and maintenance of surgical equipment.
Use simulation to evaluate how the team reduces the risk of surgical fire, as well as team-response protocols in the event of a surgical fire.
The bottom line
Although surgical fires and burns occur infrequently, it is prudent to develop fire risk prevention strategies and to review fire risks prior to the start of a surgical procedure. The team should identify, separate, and manage the elements of the fire triangle. Ignition sources should not come into contact with fuels, and oxygen should be reduced to the minimum required concentration.
---
References
Canadian Patient Safety Institute. Never Events for Hospital Care in Canada Safer Care for Patients [Internet]. 2015 Sept [cited 2017 July 20]. 11 p. Available from: http://www.patientsafetyinstitute.ca/en/toolsResources/NeverEvents/Documents/Never%20Events%20for%20Hospital%20Care%20in%20Canada.pdf ]
Based on a review of legal actions and medical regulatory authority (College) complaints that closed between 2012 and 2016. There were no hospital complaints in this time period.
American Society of Anesthesiologists. Practice advisory for the prevention and management of operating room fires: An updated report by the American Society of Anesthesiologists task force on operating room fires. Anesthesiology. 2013;118;2:1-20.
Canadian Medical Protective Association [Internet]. CMPA Good Practice Guide: Team communication. Ottawa (ON): CMPA [cited 2017 Nov 16]. Available from: https://www.cmpa-acpm.ca/serve/docs/ela/goodpracticesguide/pages/communication/Team_Communication/team_communication-e.html.
Canadian Medical Protective Association [Internet]. Shining a light on the medical-legal risks of laparoscopic surgery. Ottawa (ON): CMPA; May 2017 [cited 2017 Nov 16]. Available from: https://www.cmpa-acpm.ca/en/advice-publications/browsearticles/2017/shining-a-light-on-the-medical-legal-risks-of-laparoscopic-surgery.
Hart S, Yajnik A, Ashford J, Springer R, Harvey S. Operating room fire safety. The Ochsner Journal. 2011;11;1:37-42.
Yardley I, Donaldson L. Surgical fires, a clear and present danger. The Surgeon. 2010;8:87-92.
---
DISCLAIMER: The information contained in this learning material is for general educational purposes only and is not intended to provide specific professional medical or legal advice, nor to constitute a "standard of care" for Canadian healthcare professionals. The use of CMPA learning resources is subject to the foregoing as well as the CMPA's Terms of Use.