Safety of care
Improving patient safety and reducing risks
New to practice? Practical tips for physicians in the first 5 years
Originally published June 2017
17-13-E
Physicians are faced with many challenges in their first few years of practice. At a time when they are establishing themselves in the profession, they may not yet be familiar with all of the policies of their regulatory authority (College)—which can lead to medical-legal difficulties.
This was evident in a 5-year review of 227 closed CMPA medical-legal cases in which College and peer experts were critical of new physicians.1 The experts' concerns frequently centred on practice management issues, such as office management, communication, and professionalism. The issues often impacted clinical care such as not having a reliable system to manage test results leading to a diagnostic delay.
Dr. Ellen Tsai educates many physicians new to practice in her role as a CMPA physician advisor. She says that 3 themes often come up when speaking to this group: follow-up of test results, ending the physician-patient relationship, and knowing when to ask for help. She remarks that, "It is very easy for new physicians to become isolated and feel they have to be able to 'do it all' because they have just finished their training."
Approximately 20% of CMPA members are in their first 5 years of practice post-residency training.2 When compared with other types of medical-legal issues, the Association most often assisted new physicians with regulatory authority (College) matters.3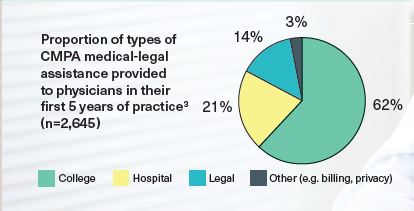 Case examples
The following case examples illustrate 2 areas of practice that often pose a challenge for new physicians—ending a physician-patient relationship and communicating clearly with patients.
Case 1: Physician does not adhere to College policy in dismissing a patient from his practice
What happened?
A family physician (FP) is running behind schedule when a patient arrives for her appointment to receive test results. After waiting some time, the patient becomes irritated and asks the receptionist when she will be seen. The receptionist tells her that there are still 8 people ahead of her. The patient states that the wait is unacceptable and demands an appointment for another day. Later that day, the receptionist tells the FP that the patient was rude to her. The FP instructs the receptionist to call the patient and tell her she will be discharged from the practice.
What did the College have to say?
The College maintained that the FP did not end the physician-patient relationship according to the College policy. He should have notified the patient of the reason for discharging her and arranged proper follow-up care. The College also noted office management issues with respect to patient scheduling and wait times. The FP, who had not been aware of the College's policy, apologized to the patient and implemented changes to his practice to improve scheduling.
Case 2: Miscommunication leads to dermatologist prescribing the wrong topical agent for her patient
What happened?
A dermatologist prescribes topical agents for psoriasis to a new female patient. As the dermatologist gets up to leave, the woman tries to ask another question, but the dermatologist advises her to make another appointment as other patients are waiting. The woman explains that this would be difficult as she would have to make childcare arrangements and plan around her "nursing schedule." Nonetheless, the dermatologist still refuses to allow the patient to ask her question. Feeling that her concerns were dismissed, the patient files a College complaint.
Upon receipt of the complaint, the dermatologist discovers she misunderstood the patient during the encounter. The dermatologist wrongly assumed that the patient was referring to her work schedule as a nurse, when in fact "nursing schedule" referred to breastfeeding. The dermatologist quickly realizes that she prescribed an agent not indicated for breastfeeding patients and changes the prescription to a safer topical agent.
What did the College have to say?
The College advised the dermatologist to take the necessary time with patients. Her haste led to an unnecessary and avoidable mistake in this case, where the patient was prescribed an inappropriate medication.
Strategies to improve safe medical care
Three primary risk areas were identified:
diagnostic error
office management
patient communication
The following strategies are based on the peer experts' opinions in the cases reviewed.
Conduct a thorough diagnostic assessment
Obtain a sufficient, relevant history and conduct an appropriate physical examination in order to formulate a clinical diagnosis and care plan with a clear rationale.
Use an effective system to manage the timely follow-up of test results (e.g. automatic alerts in EMR) including communicating the results to patients. Avoid using the "no news is good news" approach to deal with test results.
In some cases, the experts recognized that the new physician did not have adequate knowledge, experience, or resources to address certain issues. The following tips are suggested:
Provide assessments and treatments only within your scope of practice.
When necessary, ask a colleague for advice or review the literature for information on unfamiliar diagnoses, medications, devices, and products.
Focus on office management
Be familiar with the policies and procedures of your clinical workplace and ensure to the degree possible that they are consistent with your College's policies.
Be aware of your College's policies, especially regarding accepting new patients.
Implement an office procedure to deal with patient no-shows effectively and fairly.
If it becomes necessary to dismiss a patient from your practice, ask yourself if the reasons are appropriate and in accordance with your College's guidelines.
Assess complaints and consider making improvements to your practice to address issues.
Communicate effectively with patients
Communicate respectfully and professionally with patients, and address potential language, cultural, or cognitive barriers to effective communication.
Communicate clearly and effectively, and listen actively. Allow patients the opportunity to express their current health concerns.
Provide patients with appropriate follow-up and clear instructions (verbal and/or written), including symptoms and signs that should alert them to seek further medical attention and how urgently to do so. Confirm patients' understanding of the information being provided, and answer questions honestly and openly.
Calls to the CMPA from new physicians
In 2015, the CMPA received more than 3,000 calls for advice from new-to-practice physicians. Almost one-third of these were about practice management and dealt with issues such as ending a physician-patient relationship, accepting new patients, maintaining medical records, joining or leaving a practice, and billing disputes.
CMPA assistance
The CMPA does not assist with all practice-related inquiries. For example, its assistance does not extend to contract disputes, particularly those about the custodianship of medical records. Physicians who are working in a clinic or group practice are often unclear about who has custody over patient records. In some circumstances, physicians who are planning to relocate or leave the practice can be surprised to learn that they no longer have access to their medical records as a result of the contract terms. Regulations on custodianship vary by jurisdiction. Physicians should understand the regulations before joining a practice.
New physicians are encouraged to consult their personal legal counsel and, if relevant, their professional association for assistance with contracts.
Read more on setting up a practice:
The bottom line
High risk areas identified from CMPA College cases include ending the physician-patient relationship, communicating with patients, and managing test follow-up. Physicians new to practice should be particularly mindful of their limitations, and seek advice or accept support from colleagues. They should also be familiar with and adhere to College policies and guidelines, as well as relevant provincial and territorial legislation and regulations.
Additional reading
The CMPA Good Practices Guide has more information on a number of topics, such as communication, professionalism, and diagnostic tips.
---
References
Based on a study of CMPA legal actions and College and hospital complaints that occurred and closed over a 5-year period, took place both in- and out-of-hospital, and involved new career physicians in their first 5 years of practice.
Mean yearly proportion 2010–2014.
Based on a 5-year review (2010–2014) of all open and closed CMPA cases (excluding advice) involving physicians in their first 5 years of practice.
---
DISCLAIMER: The information contained in this learning material is for general educational purposes only and is not intended to provide specific professional medical or legal advice, nor to constitute a "standard of care" for Canadian healthcare professionals. The use of CMPA learning resources is subject to the foregoing as well as the CMPA's Terms of Use.