Physician wellness
Coping with the stress of medical practice or a medical-legal issue?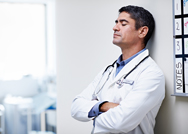 As physicians, we know practising medicine is often stressful. Increasing practice demands and ever-evolving societal expectations can generate intense pressure. Combine these stressors with medical-legal action, College/hospital complaints, or privacy/human rights complaints and you can easily find yourself in a negative place.
You're not alone. The CMPA can help
CMPA physician advisors – peers with extensive training and experience – are available to help members understand, navigate and cope with the stress of daily practice and medical-legal issues.
Members receiving advice from CMPA counsel are encouraged to share their feelings and concerns with their lawyers. You may also wish to discuss the issue with a trusted colleague or department head to help put matters into perspective.
CMPA articles on physician wellness
The following articles provide information, advice and guidance on coping with stress and managing medical-legal issues.
College complaint
Hospital complaint
Medical-legal issue
Physician health
Provincial physician health programs
A number of provincial organizations offer health programs to support physicians, residents and their families. Contact your local organization to get the help you need.
Other resources
Suggest a physician wellness resource
Contact us on Twitter or LinkedIn, and let us know what resources you use to keep yourself healthy and promote physician health.