Resident symposium

Safe medical care — It's your move!
A full-day, interactive, face-to-face educational event targeted to residents in the early years of their training (PGY1 and PGY2), focusing on patient safety and medical-legal risk reduction. The standardized curriculum is based on CMPA medical-legal risk data and the CanMEDS 2015 and CanMEDS-FM competencies. The workshop content was co-created with volunteers from Resident Doctors of Canada (RDoC). CMPA physician advisors and legal counsel, who have specialized content expertise, will facilitate all plenaries and workshops.
Value for residents
Gain practical tips to provide safe medical care
Reduce medical-legal risk
Learn how the CMPA supports residents
Value for faculty
Help residents achieve patient safety-related CanMEDS competencies
Access tools and resources that support faculty in teaching medical-legal topics
Medical schools
University of Toronto - Small-scale pilot
University of Toronto - Large-scale pilot
McGill University
University of Toronto
Queen's University
Dalhousie University
University of Ottawa*
University of Alberta*
*To be confirmed
10 Canadian medical schools
2020+
All 17 Canadian medical schools
Program
30 minutes
Plenary 1 – How residents get into trouble
Learning objective:
List 3 patient safety issues identified from the CMPA's files involving residents
45 minutes each
Concurrent workshops
Informed consent
Learning objectives:
Outline the standards for informed consent
Practise conducting a consent discussion
Document your consent discussions effectively
Documentation
Learning objectives:
Describe several "best practices" with regard to documentation
Identify at least 1 area for improvement in your medical record-keeping
Disclosure of harm
Learning objectives:
Describe how to prepare for disclosing a harmful patient safety incident
Participate in a simulated disclosure discussion
Teamwork and delegation
Learning objectives:
Describe the roles and responsibilities of trainees and supervisors
Practise strategies for critical communication
1 hour
Buffet lunch (included)
45 minutes
Plenary 2 – How the CMPA supports members / Medical-legal Q+A
Learning objectives:
Describe how the CMPA supports members faced with a medical-legal complaint
Get answers to your medical-legal questions
---
Contact
For more information, send an email to education@cmpa.org
You may also be interested in ...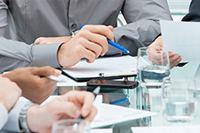 Join other physicians to learn about better management of test results.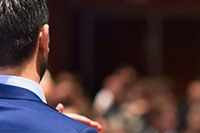 An evening to help physicians improve diagnostic errors, medication-related harm, and EMR documentation.