System and practice improvement
With its specialized research insight and analytical experience, the CMPA empowers the medical community to further improve healthcare quality and safety. We work with our healthcare partners to address identified gaps and promote knowledge in areas that have the potential for greatest positive impact.
Obstetrics Services In Canada: Advancing Quality and Strengthening Safety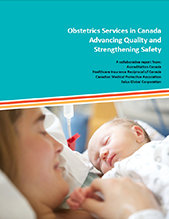 Obstetrics Services in Canada: Advancing Quality and Strengthening Safety is a collaborative report by Accreditation Canada, the Healthcare Insurance Reciprocal of Canada (HIROC), the Canadian Medical Protective Association (CMPA), and Salus Global Corporation that profiles the quality and safety of obstetrics services in Canada from 2004 to 2015. Each organization is committed to health care safety and improving the performance of health care teams. Together, these four national organizations are using their detailed data to report on strengths, issues, and challenges in obstetrical care today.
Surgical Safety in Canada: A 10-year review of CMPA and HIROC medical-legal data
This is a retrospective analysis of Canadian surgical incident data which includes recommendations to advance knowledge in patient safety concepts and lead to system and practice improvements. The report was prepared jointly by the CMPA and the Healthcare Insurance Reciprocal of Canada (HIROC), in support of the Integrated Patient Safety Action Plan, a national initiative of the Canadian Patient Safety Institute and key healthcare stakeholders.

Surgical safety checklists: A review of medical-legal data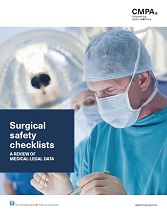 In support of safe surgical care, this review of CMPA medical-legal data points to the continued relevance of the clinical issues that the Surgical Safety Checklist (SSCL) is intended to address, highlights some of the barriers to its effective use, and identifies priority areas for system and individual practice improvements.
ACTION for safe medical care
Based on the CMPA's research and analysis, these fact sheets offer insight and practical tips that promote safe care and help reduce medico-legal risk.