Announcing the launch of Saegis, offering specialized programs and services.
ADVANCING PATIENT SAFETY AND PRACTICE MANAGEMENT
THE CANADIAN MEDICAL PROTECTIVE ASSOCIATION
Protecting the professional integrity of physicians and promoting safe medical care in Canada
The member sign in will be unavailable due to maintenance from 8:00 ET on January 20, 2018 until 8:00 ET on January 22, 2018. We apologize for any inconvenience.
CMPA Perspective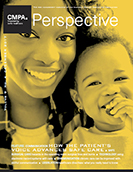 The risk management magazine of the CMPA